WorkFlowy Overview - Free Productivity Tool
WorkFlowy is a productivity tool that is unpretentious and easy to use. Oh, and it has a nice free plan which is startup friendly :)
 
At its core, WorkFlowy a simple to-do list where you can add different indents of bullet points. 
Like this: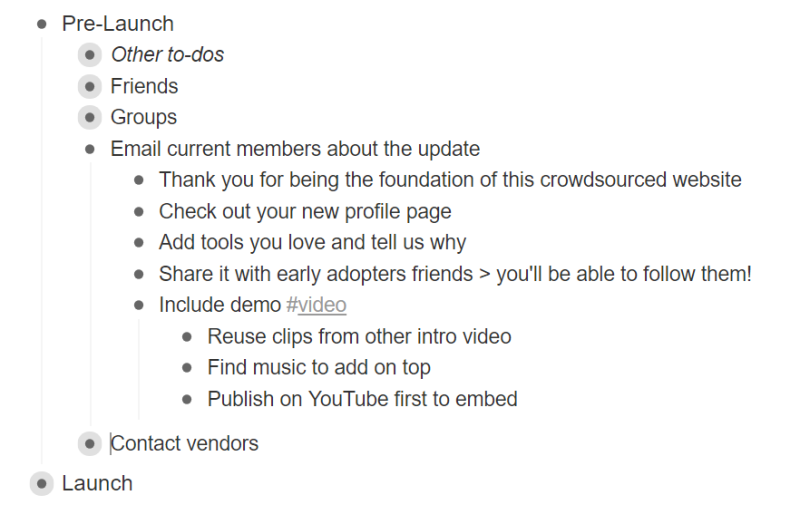 But don't be fooled: despite its simple look, WorkFlowy has features that let you do a whole lot more.
Did you know that Ev Williams, the founder of Medium, Twitter, and Blogger, uses WorkFlowy every day? And that Slack, a $2 billion company, was started on WorkFlowy?
So here's what WorkFlowy really does:
WorkFlowy's Awesome Features
Cross Off Tasks
If you're done with an item, cross it off. You'll get that warm fuzzy feeling of being productive as you mark tasks as "complete".
And if you want to unclutter your view, you can hide items that are completed and have a clear view of what's left. Focus is key, right?
To make the dropdown appear (that dropdown in which you can select "complete"), simply hover over the bullet.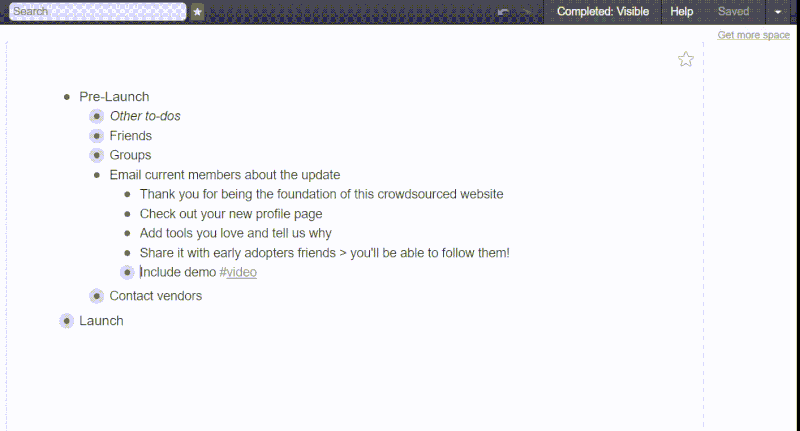 Zoom Into a Single Set of Things
Having lists within lists of bullet point items can easily get messy and that messy view can be discouraging.
WorkFlowy has a beautiful solution for that. 
First, you can close other expanded lists so that the only bullet point items that you see are the ones to focus on.
To do this, simply click on the minus sign (-) next to the bullet point to collapse it.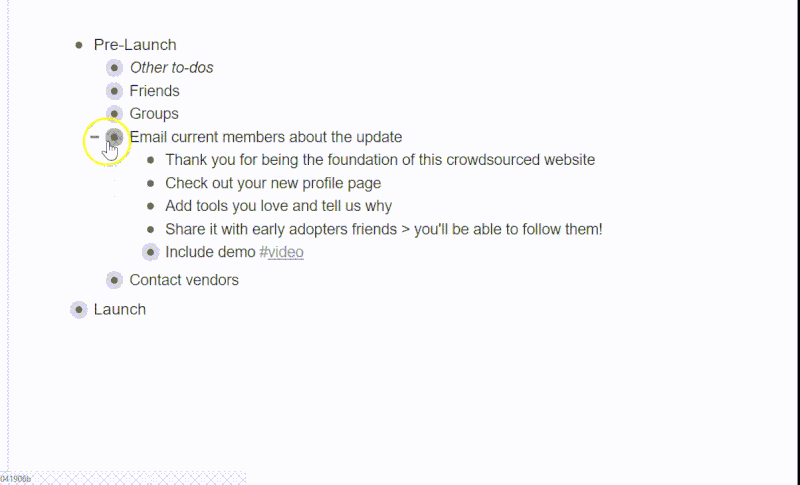 Second, you can also click on a bullet point to zoom into a full page view of this item.
To return to seeing all your bullet point items, click on the breadcrumbs on top of your page.
Copy List
You can also choose to duplicate a list. This can come in handy if you have repeat tasks to do.
For instance, if you are publishing blog posts weekly, you might be doing the same tasks over and over. By duplicating your list with WorkFlowy, you won't have to manually copy each to-do by hand and you will easily have an overview of where you stand.
Tagging
You can use #hashtags to tag items and @names to refer to people. As you are typing, if enter # or @, a dropdown will appear with existing #hashtags and @names.
Clicking on a #hashtag or @name is the same as entering it into search. WorkFlowy will scan your document and display search results. You can obviously use the search bar for any other word, even without # nor @.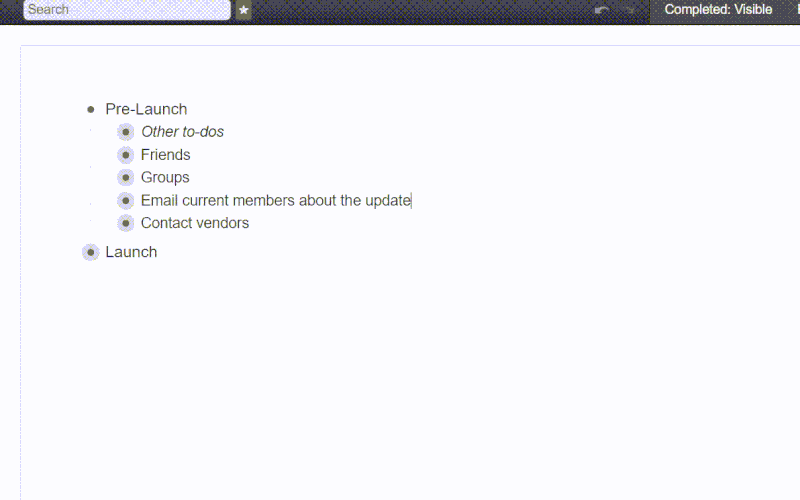 So what are your thoughts about WorkFlowy? Let us know what you like and dislike about it.
And if you want to give it a spin, use this link to get an extra 250 free lines when you sign up.
Enjoy!