PDF Converter
PDFs are lovely but, let's admit it, they can sometimes cause headaches.
Chances are that, at one point, you've been in need of doing one of the following PDF-related tasks:
Compress PDF
Convert PDF to Word
Convert PDF to Excel
Convert PDF to JPG
Convert PDF to PowerPoint
Merge many PDF into one
Split one PDF into many
Rotate PDF
Unlock PDF
Lock PDF
If so, you need to check out Smallpdf. 
Smallpdf is one of the simplest and best designed tools I've seen. It can do all the tasks listed below, and to them really well. It will also do the reverse conversion for all Microsoft Office documents (e.g. convert Word to PDF; not just PDF to Word).
It allows you to convert a few documents for free, to get a sense of just how great it works. And no, even for the free conversion, it won't leave a watermark nor do anything sneaky. 
It's one of these (rare) tools that just works, neatly, quickly and error-free.
If you want to get a sense of it, go check out their Twitter feed: you'll find lots of love from their users :)

Here's my quick overview of Smallpdf:
If you need to do lots of PDF work (more than what they offer for free), their paid plan starts at $6/month (or $4/month, if you buy a full year plan).
What do you think about Smallpdf?
Do you already use Smallpdf? If so, we'd love to hear your thoughts: what did you like (or dislike) about it?
Toolmuse helps entrepreneurs share word of mouth opinion on tools to find the best business tools out there. Great tools empower startups and contribute to their success -which is what we're striving for!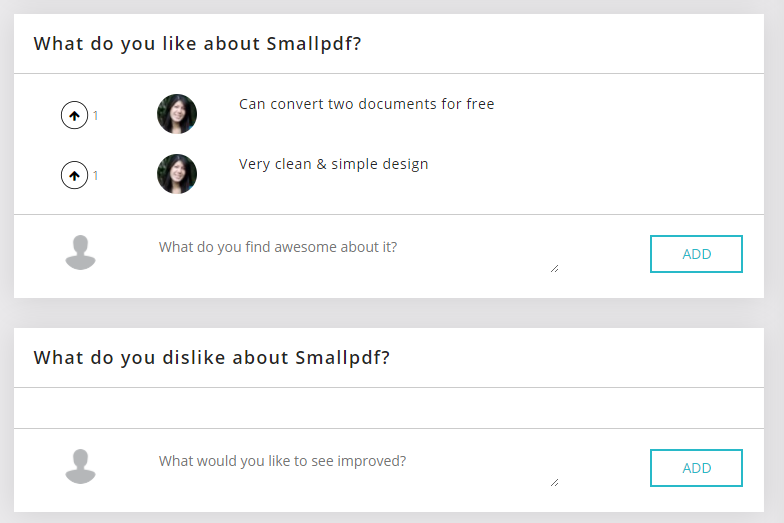 Come join our startup community to contribute or simply browse the most popular startup tools out there. We look forward to seeing you there!