How to get more Twitter followers in 2017
We recently reached 6k Twitter followers. As a few friends came up to ask how we got there, we decided to spill the beans and share everything we did.
Below is the easy process we've used to get here. We're a startup and these tips are about our experience growing our brand, @toolmuse.
And, let me be clear: our followers are quality followers who like, share and interact with our content. Also, note that we have not spent a penny to grow our audience.
Seven steps to get more Twitter followers in 2017:
The unspoken rule

Use Tweepi to follow quality followers

Use the right hashtags

Engage with your users

Use ManageFlitter to unfollow unfollowers

Interact with influencers

Post valuable content
What your Twitter account should look like
Twitter can be scary at the start.
It's not uncommon to see startups with Twitter accounts that look like this:
Following many but have little followers...
Or this:
Close to 14k tweets... a whole lot of effort for 500 followers.

So you're thinking that Twitter would be a good platform where to connect with your audience but don't know how to make it work?
I hear you. I was exactly in that same position a couple years ago. I never had a Twitter account (not even a personal one). I had no idea of knowing how it worked. And honestly, I just wasn't strong on any social media (I had canceled my FB page and did nothing to keep my LinkedIn page alive).
Twitter was daunting. But I now look back smiling, seeing how far we've come.
Here's our latest "Audience Insights" from Twitter Analytics:

Also, our followers are fantastic. They are exactly who we want to have as an audience.
Their interests are spot on with what Toolmuse is offering (we're a website about startup tools):
And the age bracket is also well aligned with our target market: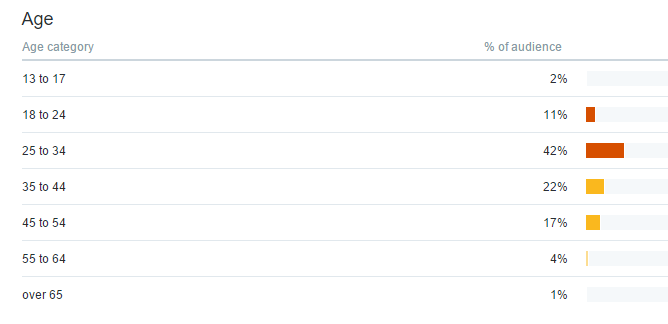 Why it's important to have the "right" followers
Sure, you can ask your family and your friends to follow you. That can help you gain your first few followers.
But ultimately, you'll want your Twitter followers to be true fans, meaning that you'll want people that are genuinely interested and excited about what you have to offer.
They will use Twitter to stay tuned in with your updates. Over time, you'll want them to visit your site and become clients.
In Toolmuse's case, our goal with Twitter is to gain new website traffic. Because we have quality followers, this is working well for us.
About 15% of all our traffic comes from Twitter.
Our bounce rate from Twitter traffic is 61%. This means that 61% of the traffic from Twitter lands on our site and quickly leaves. That might seem high but it's actually an acceptable range.
Seeing that we still haven't officially launched and are still working on fixing features on our homepage, I'm fine with it.
Also, note that our website overall bounce rate is at 65%. That proves that we actually get quality leads from Twitter.
Quality followers are important because if your bounce rate from this audience is too high (above 80%), it means that you're wasting your time trying to engage with an audience that's not interested.
In a nutshell, you're not talking to the right people about the right things.
How to get more followers on Twitter in 2017: Step-by-Step instructions
Below are all our Twitter secrets. Following them should help you gain a healthy number of followers in no time.
1. Following back: the unspoken rule
There's this unspoken rule on Twitter: when someone follows you, it's expected that you follow them in return. If you don't, they'll likely unfolllow you.
This is also how we operate.
We tend to follow back most users and consider it common courtesy.
Toolmuse on Twitter
And yes, there's "courtesy" but let's also mention the obvious: no doubt that growth would have been significantly slower if we hadn't done this.
However, not everyone uses this strategy.
You'll find accounts that follow almost no one, but have lots of followers. Let's not pretend that this doesn't add to the credibility of their page -and make them look quite cool.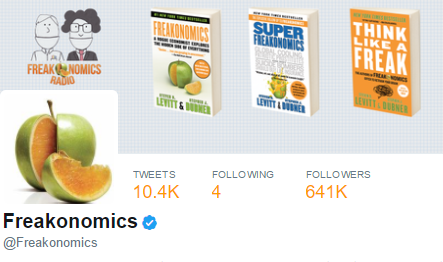 Freakonomics on Twitter: following 4 but being followed by 641,000!
But, for the steps below, we'll assume that you want followers enough to follow back.
(Obviously, use your judgment: don't follow back any accounts that don't fit with your values or look spammy.)
2. Use Tweepi to find quality followers
Assuming that your Twitter account is properly filled in (images, descriptions and initial tweets), it's time for you to find good, relevant followers.
Tweepi is a fantastic tool to help with this. It's a simple web app that helps you get more insights on your Twitter account.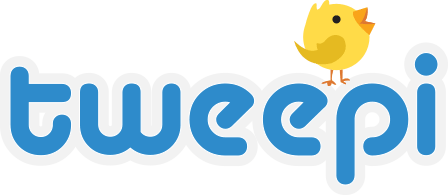 We use their free feature called "Follow followers". This means that you can look up any Twitter account and follow the followers from this account.
In case you're wondering: yes, you could also do this on Twitter itself yet Tweepi offers extra analytics which comes in handy.
So here's how we do it:
Brainstorm: Who else on Twitter has the same target audience as yours? Who are your competitors?
In our situation, Alternativeto.net or Product Hunt could both be good starting points. Their sites are all about apps and software, and I bet their Twitter followers include lots of tool enthusiasts.
However, their audience is also a lot broader than startups, i.e. too broad for us.
Our target is startup employees and founders.

Upon brainstorming further, Mixergy, Startupstash or AppSumo have closer target audiences so we should rather follow their followers.
Add followers
Once we have the user list from AppSumo, we can start adding followers by clicking "Follow".

However, to increase your chances of 1) being followed back and 2) having quality followers, you can tweak a few more things.
Use the "Follow Ratio" column to ranks users
In using Tweepi, our goal is to gain new followers (i.e. people who will follow back).
Click on the column header "Follow Ratio" to rank the followers by their follow back ratio and focus on adding users who typically follow back others.
 
The higher the ratio, the higher chances of being followed back.
Add extra filtering criteria
Click on "Add criteria" to narrow down your search results.
I've added that I wanted our followers to have the word "Startup" in their bio. From my assumptions now, these users love startup tools and are related to the startup world.

That significantly adds the odds that these folks will be a solid fit with our audience.
Use your judgment
Always. If you see "JennyXXX" as a username or a suggestive profile picture, skip them. This is your business account after all; don't add anything that doesn't align with your values.
Do this every few days
You'll get flagged by Twitter and have your account suspended if you add too many users all at once. However, from our experience, you can add about 100 users every few days with no problem.
You'll get to see the total number of new followers you've just added in your top nav bar.
Add yourself a reminder to do this a few times a week and you'll get a core set of followers in no time.
 
3. Use the right hashtags
It's a popular tip but let me give you some concrete actions about hashtags that many people miss out on.
Use your main hashtag(s) in your profile description.
For us, the top hashtags were #startup and #business. Ever since we've added them, we've had a whole lot more people find us.
And that's the goal: Make it easy for people to find you.
 
When you write a tweet, integrate the best hashtags in it.
People search hashtags so, again, using the right hashtags will make it easy for them to find you.

But wait: how to find good hashtags?

Use logic
If I'm posting a blog post about MailChimp, I'll add #emailmarketing. Easy enough.

Find what other good relevant hashtags are out there
Use a tool like RiteTag.com to know which tag to use now, for your topic.
For instance, these are hashtag recommendations for startup-related tweets: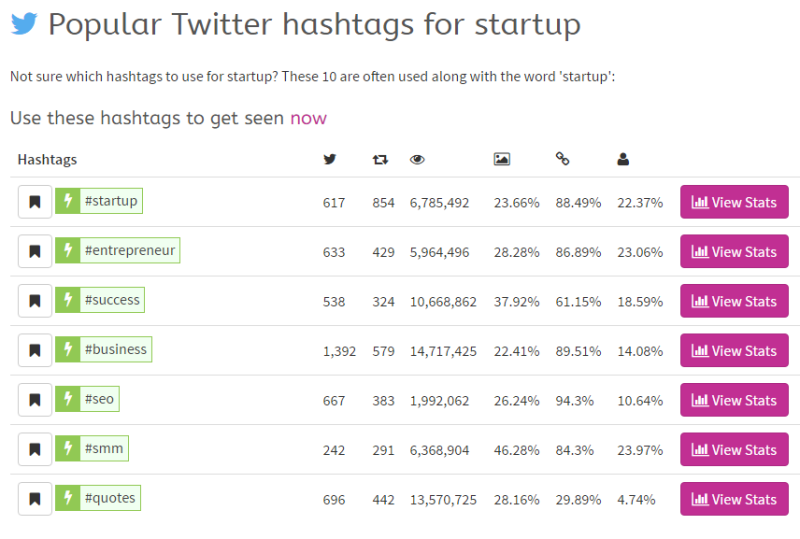 You can also have a look at what's trending (check your sidebar on Twitter) and see if you have something smart to add on any of these topics (although I have to admit that we never use this).

Test your hashtag results
Do you get higher views with some of these hashtags more than others? Check your Twitter analytics to figure it out (it's free and included with any Twitter account).

Once you know your winning hashtags, use them.
 
4. Engage with your users
One of the first things you'll notice, upon joining the Twitter-sphere, are the automated messages received when following new people.
I now completely ignore messages.
They're spam, asking for attention, trying to get you to like them on FB or to have you download their ebook. They're sent to everyone, aren't useful, and don't make anyone feel special.
 
Instead, remember that you're talking to fellow humans and pull back out the kind and interested Dale Carnegie in you.
 
When we talk about engaging with your followers, we mean:
 
Say thank you when they retweet your content
We sometimes have new followers that, upon discovering @toolmuse, retweet a handful of our tweets. Wow, that's super appreciated! And we let them know:
 
If someone mentions you, reply in a pleasant, human way
It's your opportunity to say hello and say something that makes you stand out from all these automated messages. "Hey John, looking forward to reading your great posts too! By the way, love the last quote you shared. It was powerful."
 
Say hello! Ask questions. Reply.
Do you see a fun or an intriguing profile? Say hello. Let people know what you liked about their profile or their last tweets. Be positive and encouraging. Share honest compliments. By taking the time to notice great things and mentioning them, you'll shine a positive light back onto yourself and stand out.
Keep track of your fans
Are there users that often retweet and like your content? Fans that are excited about anything you have to share? You'll get there, I promise!
For these folks, why not add them to a list? This allows you to go check out their latest posts once in awhile and engage with them. Nothing like showing a bit of love to those who love you.

No magic here. These tips are very simple.
Simply put: in a world ruled by spam and automation, a real message from a real person to another can really stand out. Do it because you mean it, and no doubts that you'll have engaged followers in no time.
 
5. Use ManageFlitter to unfollow unfollowers
When we previously touched upon the follow back concept, we had said that there's this unspoken rule on Twitter where if you don't follow back users, they'll likely unfollow you.
We're also playing by this rule.
So for all the new followers that you're adding, wait a certain amount of time (say 1.5 weeks). By then, if they're not following back, it's time to unfollow them.
ManageFlitter is a free tool that allows you to do so.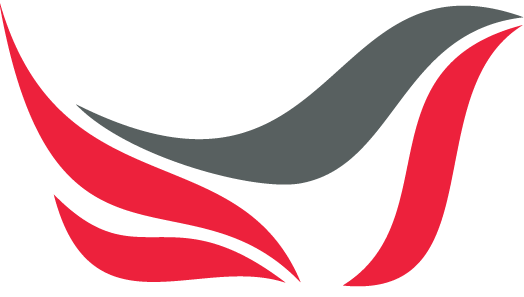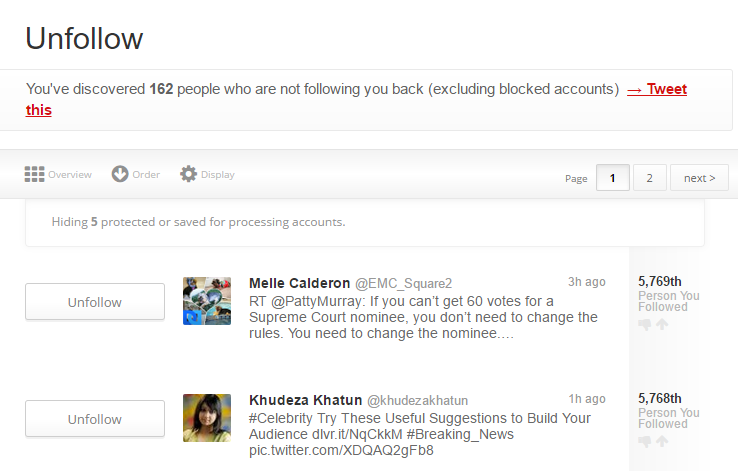 We rank our users by Order > Follow order so that we have the first people we've followed at the top. We then simply click "unfollow".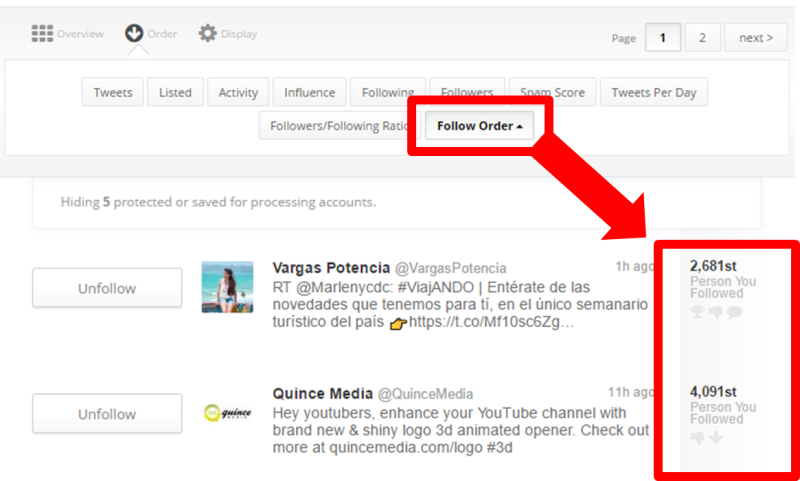 From our experience, you can remove about 100 users per time without having your Twitter account suspended. You'll get the see the number of people you've unfollowed on your sidebar.
 
And if you unfollowed someone a bit too quickly, you can undo your last unfollow.
6. Interact with influencers
We now have 6,000 followers but, let's be honest: in the realm of Twitter, that's still a humble number.
One thing we've started doing, as part of our social media strategy, are shout-outs to some of the tools listed on Toolmuse. These software vendors are often much bigger players and, in our sphere, are great influencers to connect with.
We do shout-outs when we write blog posts about tools:
Retweeted by MindMeister, who has 22,300 followers.
We do shout-outs to the top tools in various categories:
Retweeted by Framer, who has 15,700 followers.
Or when users add new tools to Toolmuse:
Having these bigger players know we exist helps us in many ways. Their simple retweets help increase our visibility to the right audience.
It enables us to get on their radar (after all, these software vendors are our clients).
 
It also helps us bring traffic back to Toolmuse (see the previous Twitter analytics image: 48 link click is decent traffic back onto our site with a single free post).
There are different types of influencers out there. Your influencers will depend on your target audience and goal. For us, instead of reaching out to personalities of the startup world that are already in high demand, we decided to reach out to tools as they were more engaged and had large, quality audiences.
 
Find your own influencers and think of a way to get on their radar. Creating content they'll want to share with their audience is well worth brainstorming.
7. Post valuable content
Last but not least, let's talk about quality.
 
Please don't use your Twitter feed to post plain promotion about yourself; no one likes being spammed. Rather, aim for valuable content for your target audience.
 
By posting valuable content, you'll make your audience happy to follow you. You'll typically see more engagements (likes, shares, link clicks) on such "valuable" posts.
 
In that sense, there are two different ways to offer value:
The Entertainment Angle
Valuable content doesn't just mean dry and serious posts.
 
For the majority of the world, social media is entertainment. Why wouldn't you also be interesting and fun? So think: what would be entertaining for your followers?
 
We've recently started tweeting quirky things about startup life reality which has gotten us easy "likes". Simple posts to make you smile:
Mind you, the startup audience being laid back and playful, we can afford to do this without making our brand look hollow. Updates on what you're doing or quotes are examples of other "light" content we share.

Alternatively, another way of integrating entertainment is to do what HBR has been doing: post valuable insights but add an amusing (and memorable) picture with it.
Different social networks have different purposes and "levels of seriousness".
Twitter, for instance, is not as formal as LinkedIn so you can post more informal content on it.
 
Ultimately though, know what's entertaining to your audience, make it fit with your social media goals and trigger some smiles :)
The Insightful Angle
Entertainment can engage your audience to a certain extent, but too many silly posts will also limit your credibility.
 
We created Toolmuse to help startups run successful businesses, so it's only fair that most of our Twitter feed contains helpful content for entrepreneurs.
 
Mainly, we share posts that address pain points our followers have or contain insights that are of interest to them.
 
If you're looking for an example of what a successful Twitter feed looks like in terms of content marketing, have a look at Hootsuite:
Hootsuite has a large Twitter audience (8.5M followers) and seeing the quality of their posts, it's easy to understand why. They offer actionable content (check lists, cheat sheets, tips, etc.) which is not only helpful, but which also makes you look smart and helpful to share.
 
And that's the hidden benefit of sharing insightful posts: lots of retweets.
Retweets are key as they get you to "surf" others' audience -sweet!
 
So look at the retweet to like ratio for the Hootsuite posts.
Over 60% of their engagements are "share".
 
Now, compare them to YouTube's posts:
YouTube's audience is even more massive (67.5M) and knowing them to be the behemoth they are, it's normal. However, they mainly share entertainment, i.e. typically less insightful content with a lower social currency.
Less than 20% of their engagement is sharing.
 
For YouTube, that's fine. They're big enough that entertaining and keeping their audience engaged is sufficient.
 
However, as a small company that's building a brand on Twitter, you should have content so good that it's worth sharing. Having your posts retweeted will help you grow your audience significantly.
 
It definitely has helped with ours.


Also note that on Twitter, it's ok for you to repost your content over and over again. If you have good content to share, don't hesitate to share it more than once. Simply make sure that you space it with enough other posts in between so that your feed looks varied and your followers don't have the impression that they're getting spammed. We repeat articles every two weeks to one month.
How to source valuable content
Your blog
Sharing articles from your own blog (i.e. have a content marketing strategy) is ideal. This will bring visitors back to your own website, which has lots of advantages (SEO, website traffic, linking to your own content, etc.).
 
(Notice how this article is an example of writing about a solution to a pain point.)
Share other existing content
When we first started on Twitter, we didn't have a blog but still wanted to have a quality feed.
 
The trick then is to find valuable third party articles to share.
 
Find other Twitter feeds with good content for your audience and add them to a Twitter list. Whenever you're in need of content, access this list to see the latest and greatest posts to share.
Use tools like Buzzsumo or Inbound.org to source relevant articles. You can also set up Google Alerts on specific keywords to keep up with the latest content on these topics.
 
It can be a bit of extra work but make it look like the post has originated from your account, instead of a simple retweet.
 
Why?
 
In your feed, this is what a retweet looks like:
If one of your followers decides to retweet this post, you get no credit. It will look exactly the same as the image above, with Zapier's logo.
 
Instead, take a few seconds to post this same article, but instead of retweeting it, create a new tweet, add a few words and paste the URL. This is what it will look like: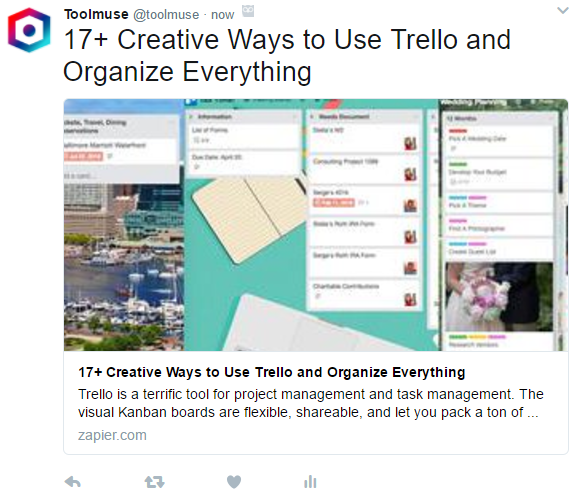 Now, if a follower comes on your feed and retweets your post, your brand comes with it and you can also keep an eye on the analytics to know which posts your followers like most.
Ultimately, you're still leveraging someone else's great content. But why not take a few more seconds and add your brand and visibility on it for free?
Eat your own dog food
When creating your feed, ask yourself whether it's genuinely interesting. Imagine that you're your target audience: would you sign up to your own feed?
 
Your answer needs to be a definite yes.
Keep on improving
As you're posting, keep a close eye on your analytics. See your "Top Tweets" and find the ones that are performing best.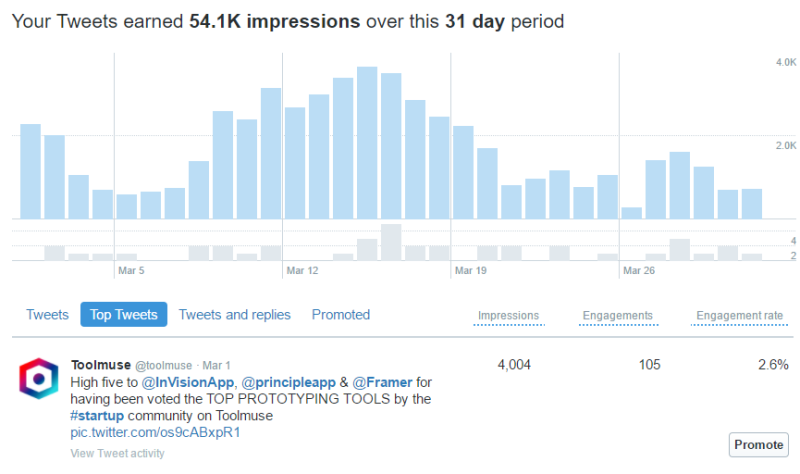 These top performing tweets should be a solid inspiration when crafting new posts. Focus on creating more similar content, and cut off the content that doesn't get much engagement.
However, before scrapping posts, try posting these same tweets at different times. This will tell you whether your low engagement was due to the post itself -or just due to the time/date when it was posted.
 
Putting the emphasis on sharing valuable content and knowing what's engaging for your followers will make the whole difference.
 
With no focus on value, you'll end up having a feed like our friends from the beginning of the post...
Conclusion
Getting started on Twitter can be daunting but with these seven tips, you should be able to reach your first thousand followers in no time.
 
One thing to make sure of, in the process, is to keep your Twitter feed "alive".
 
Initially, you'll tweet a lot and have little responses. As you have little followers at the beginning, it's only normal to see less engagement.
 
However, don't get discouraged. Keep on posting.
Pass that hurdle and, I promise, it will become a lot more fun.
 
Give yourself a schedule (e.g. twice a week) and have the discipline to keep your feed alive.
 
Don't hesitate to use tools like Hootsuite and Buffer to preschedule posts. You can use both of them for free.
 
We hope this article was helpful. Tweet at us if you have any questions or simply come say hello!
We're looking forward to hearing about your success on Twitter and elsewhere!